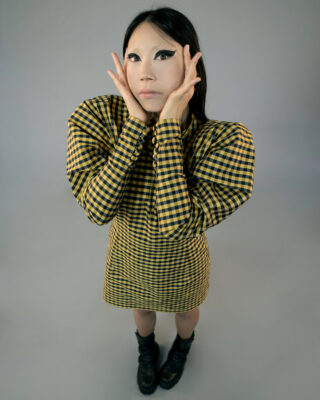 SASAMI: time to get heavy
A shapeshifting artist blending folklore and nu metal to make sense of modern collapse
Nobody, you suspect, ever ends up standing on the Matanuska Glacier in Alaska by accident. When the cover of Sasami Ashworth's debut solo full-length depicted her doing precisely that, there was obviously a significance to it. A highly personal album, mired in sadness and defined by its frosty synths and desolate guitars, it was one on which you could almost hear the emotional ice getting thinner, as Ashworth sensitively unspooled her feelings and, in the process, thawed out her soul.
That was three years ago now. After the album met with glowing reviews, there were any number of directions in which she might have gone next – she's a classically-trained, French horn-playing Los Angeles native who had already proven her pop chops and punk credentials in Cherry Glazerr, where singer Clem Creevy described her as the resident "synth queen." It says a lot about her, then, that the path she's chosen for album number two has led her to produce a ferocious rock record inspired by her teenage love of nu metal, one that features Dirk Verbeuren of Megadeth on drums and inspired Rolling Stone to dub her "the Satanic Brian Wilson." "I have a very watery energy," she says, at one point, over Zoom from her California home. She's speaking in astrological terms, but it makes sense on another level – if Sasami was ice, then Squeeze is fire.
As if to underline the extent of the metamorphosis, the cover of the new record depicts her not as herself, but as the vampiric Japanese deity Nure-onna, who has the head of a woman and the body of a snake (more on that later). It's a sharp sonic left-turn, but it's been a long time in the making; Sasami, released in 2019, was largely written two years prior, much of it pieced together whilst on the road with Cherry Glazerr. 
Accordingly, by the time she was at the back end of touring it in early 2020, she was increasingly bored with being a shoegazey singer-songwriter and, instead, was eager for chaos. "The shows were definitely ramping up." she recalls. "Everything was getting heavier. The emotional place that I was in when I made Sasami was in the past, so I was ready to get into noisier landscapes."
That was a road that could lead, for Ashworth, to only one place; a revisitation of the nu metal that had been both a vehicle and a salve for her teenage angst. "It's incredible to think it now, but when I was in middle school, all of that was on Top 40 radio – System of a Down, Korn, Slipknot." She's right, of course; the latter, long before they were the polished arena titans they are today, appeared as musical guests on TFI Friday in 1999, meaning that a band at that point best known for setting each other on fire on stage reached a British terrestrial television audience of millions at 6pm on a Friday. 
"That was the mainstream around my pre-teen years. It was a sonic language I was very familiar with, and I just found it interesting, and kind of funny, how nu metal never really took itself too seriously – there was always this sort of clownish quality to it – and yet it's tied to some very tumultuous feelings for me. I mean, your teenage years are the most emotionally raw of your life. You're not really a kid, you're not really an adult, you don't have money, you don't have resources, and everything feels like the end of the fucking world. So, even as a grown-up, those heavy sounds have an effect on me; going to a metal show can be really dark, and scary, and angry."
All of those are appropriate buzzwords for Squeeze, an album both unflinching in its address of gruelling subject matter, particularly violence, and buoyant in terms of its spirit. Ashworth calls this dynamic, which comes to define the album's themes, "anti-toxic positivity". "I know how I use other people's music," she explains. "It goes one of two ways; it's either to turn around my mood, or go deeper into it. If you're sad, you put on something upbeat to cheer yourself up, or you put on something darker to kind of embrace it. Making this album at a time that was so dark for mortal, societal and personal reasons, I chose to do something that would help people get further into their rage, and their frustration, and their sadness. It's for people who want to get heavy, rather than people looking to brighten their day."
Squeeze, therefore, is a searing listen, one that bubbles over where Sasami bubbled under, and that is mercurial in nature, constantly shifting shape in a manner that Ashworth credits to thinking of albums in the context of her classical grounding. "Symphonic work is much closer to a [full] record than a song, because of the length of it. To me, you can make an album where everything's cohesive, and flows really smoothly, the sort of record that puts you in a little bit of a trance because of the way it oscillates and undulates and lilts up and down. The other kind is what Squeeze is – like a haunted house or a corn maze, where there's something different around every corner, and where by the end, the energy is a long way away from where you started, even if you keep coming back to the same themes."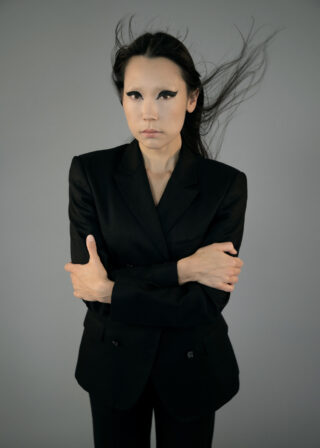 Ashworth began work on the record in early 2020, meaning that the bulk of it came together in the eye of the Covid-19 storm, and was therefore never going to be something that she could have hived off from the outside world; the impact of the pandemic on Squeeze is a profound one. 
"It was very much influenced by a year of quarantine, and watching society truly crumble in a way that was unprecedented in my lifetime," she says. "It's much less autobiographical than Sasami was. I feel like a novelist, and this is my first novel; the last album was like a bunch of diary entries. Or, you know, like I'm making a movie, and there's something intentional to each scene; that's a very different approach to making songs for yourself in the back of the van, on tour with another band." 
Ultimately, the nature of pandemic life was responsible for Squeeze's main through-line, which is rooted in fantasy, the same way that Sasami was grounded in the reality of her situation at the time. "In quarantine, everything was fantasy, right? Nothing is based on anything that you're actually fucking doing, because nobody's doing anything. You're not going out to shows, you're not going to the movies, you're not going to museums, you're not meeting new people. So, instead, it all had to come from memory. You can strive to keep touch with reality, or you can go deeper into fantasy, which is what I did – head into the darkness created by this void we all had in our lives. That's why a lot of the ideas are about spinning out in isolation, longing for attention and connection."
It was from quarantine that Ashworth found herself delving into both the political and social history of her ancestors, and their mythology and folklore, too. "My family is Zainichi – so, ethnic Koreans who were born and raised in Japan." What she found, as she immersed herself in the culture and the complicated history of both countries more than ever before, fed back into the themes that were already taking shape as she wrote for Squeeze. 
Of Nure-onna, whose form she assumes in the record's artwork, she says: "My uncle was an anime artist, director and producer, so Japanese-style art was always in my family, and I grew up watching a lot of that stuff. I think it's pretty natural that if you look at, like, Ariel from The Little Mermaid, and then at this ghostly character from Japanese folklore, it's obvious I'm going to be drawn more to Nure-onna, partly because I see myself more in characters that look like me in an archetypal way, but also in terms of energy. There's a complexity to characters like Nure-onna. If you look at the cover, the way the scales and the snakeskin are drawn is so beautiful, and yet the character has a really menacing energy, too – she would lure people to their deaths. There's multitudes – within her, within me, within the album."
The idea of cyclical violence is at the core of Squeeze, an album with a title that, again, Ashworth chose for its ambiguity: "It could mean an endearing, sweet hug, it could mean holding on tight to something in desperation, or it could mean something more sinister, as in to harm somebody." Sure enough, the title track stares down the epidemic of male violence against women, with a scintillating guest verse from London artist No Home the centrepiece. For Ashworth, the song is reclamatory. 
"I was thinking a lot about appropriation," she says. "Violence against women – violence against marginalised people in general – is a theme that gets used all the time in music and art by the perpetrators of it. I wanted to take back some of that language, and use it to make something really gnarly and visceral – to claim those words and sounds that have been misused and create something really dark out of it for myself. The song's about the fact that violence creeps up on you in everyday life, whether you like it or not."
For Ashworth, this omnipresent violence was something she discovered in her research of her ancestry, and the history of the Zainichi people more broadly, in the making of the record. "I was doing a lot of study into the Japanese occupation of Korea, and how the relationship between Korean and Japanese people was affected by it – and specifically, the impact of that kind of Japanese militaristic complex on my family. And what I found was just how violent and murderous and imperialist it all was, and I had to sort through my own feelings on that – on how all of these really complicated histories weave together."
It brings her back, neatly, to just how multi-faceted Squeeze is. There's myriad influences swirling around the nu metal nucleus – melody remains important, meaning everybody from Fleetwood Mac to Sheryl Crow echo in the background; meanwhile, there's a place at the heart of the album for a scorching cover of Daniel Johnston's 'Sorry Entertainer', which Ashworth says is "totally an underdog song, that fit in with the sentiment of the album." There are moments of near-folky introspection, too, with Christian Lee Hutson and Meg Duffy of Hand Habits among the illustrious supporting cast of musicians she assembled. 
"Everything's connected, I think; all these disparate things have an effect on each other. That's just being a human. We try to compartmentalise things, and have everything in order, and project this onto that, but honestly, if you think about what an algorithmic society we live in now, all those algorithms are just based on basic human brain function. Everything you take in affects what you put out – music, history, art, whatever."
Ashworth has already broken post-pandemic cover; she toured extensively across the U.S. last autumn with Japanese Breakfast, debuting the Squeeze live show, which, if amateur footage is anything to go by, does the record justice both in terms of the blistering translation of the songs to the stage and Ashworth's frenzied, magnetic presence at the centre of it all. The return to the real world had her reflecting on Squeeze – had she achieved all she'd hoped to with it? 
"I wanted there to be theatricality to it; I wanted drama, I wanted whimsy, I wanted it to be bizarre. But, at the same time, I made a record inspired by nu metal, which was always pretty tongue-in-cheek; I don't think songs like 'Skin a Rat' are really very self-serious. I don't know; I just remember tapping out drum parts with my fingers on GarageBand, not even knowing if they were physically possible. And now, I know they are – because the drummer out of Megadeth played them. On my record. That is fucking epic."
Photography by Angela Ricciardi
Please support Loud And Quiet if you can
If you're a fan of what we do, please consider subscribing to L&Q to help fund our support of new musicians and independent labels
You can make a big difference for a few pounds per month, and in return we'll send you our magazines, exclusive flexi discs, and other subscriber bonus bits and pieces
Try for a month and cancel anytime