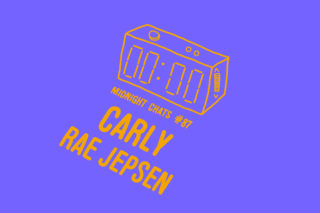 Carly Rae Jepsen: Midnight Chats – Episode 87
A conversation recorded in London with pop music's great unifier
Series 9 of Midnight Chats continues with this second of ten brand new episodes. This one is with Carly Rae Jepsen.
I met up with Carly in London early in this new decade, early-February time. She was part-part through her biggest ever European headline tour promoting Dedicated, her fourth album released in 2019.
The conversation skipped all over the place: from discussing insomnia to the unlikely image of festival crowds circle-pitting to her music, how she wrote a climate change protest song age 9 and her future hopes of writing a musical theatre show.
And perhaps, above all, how more than a decade since she started – past 'Call Me Maybe', beyond E•MO•TION – she's become a great unifier, one of those artists who brings people of all ages and varieties together under a celebration of great pop music.
Listen below or stream via whichever podcast provider you use.
We're not being funny...
… but can you become a member please?
It's actually excellent value, and will help us continue to promote new independent artists and labels.
Sign up and you'll receive our physical magazines delivered to your door, our digital editions, exclusive podcasts and playlists and an actual bookmark, as if printing a magazine in 2021 wasn't old fashioned enough.
6-month and full year memberships are available now. Fancy it?