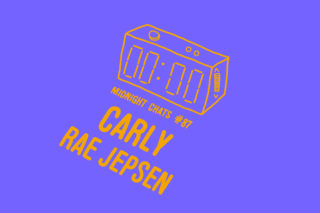 Carly Rae Jepsen: Midnight Chats – Episode 87
A conversation recorded in London with pop music's great unifier
Series 9 of Midnight Chats continues with this second of ten brand new episodes. This one is with Carly Rae Jepsen.
I met up with Carly in London early in this new decade, early-February time. She was part-part through her biggest ever European headline tour promoting Dedicated, her fourth album released in 2019.
The conversation skipped all over the place: from discussing insomnia to the unlikely image of festival crowds circle-pitting to her music, how she wrote a climate change protest song age 9 and her future hopes of writing a musical theatre show.
And perhaps, above all, how more than a decade since she started – past 'Call Me Maybe', beyond E•MO•TION – she's become a great unifier, one of those artists who brings people of all ages and varieties together under a celebration of great pop music.
Listen below or stream via whichever podcast provider you use.
Loud And Quiet could do with your help
We love making Loud And Quiet – our magazines, this website, our podcasts and more – but it's become increasingly difficult for us to balance the books.
If you're a reader who'd like to help us keep the show on the road, please consider becoming a Loud And Quiet member. There are options to receive our physical magazines and lots of other extras that are exclusive to our supporters.