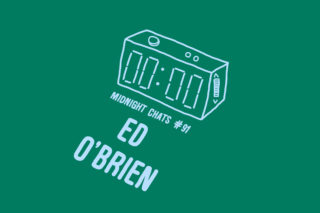 Ed O'Brien: Midnight Chats – Episode 91
Time spent in the calming, candid company of Radiohead's guitarist
On 17th April EOB – Ed O'Brien from Radiohead – will release his debut solo album, Earth.
It feels like a lifetime ago given everything going on right now, but this new decade was barely two weeks old when I met up with Ed to talk about why it's taken him 30+ years – and long after most of his bandmates – to take the plunge.
The truth is, being in one of the all time great bands doesn't automatically grant you the confidence to do it. We trace the story of Earth, but also talk about the authenticity of artists like Ed Sheeran, Little Simz and Stormzy, the highs of Shangri La at 4am at Glastonbury and having hope in Millennials and Gen Z.
Listen below, or find the episode on whichever podcast app you use.
Free Protomartyr flexi disc with this month's magazine
Subscribers to Loud And Quiet now receive a limited edition flexi disc of a rare track with their copy of the magazine
This month's disc is from Detroit punk band Protomartyr