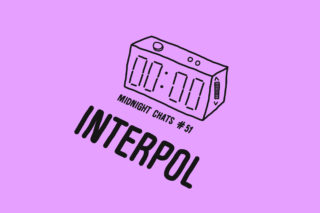 Interpol: Midnight Chats – Episode 51
We're back - with more musicians sharing stories about getting busted by the NYPD
Back in June we announced some new plans with Midnight Chats – and here we are. It's all based on making more episodes. Instead of a new podcast every fortnight, starting now, there will be a new Midnight Chats every Thursday at midnight. This series begins now, and will run up until Christmas. We've already recorded a bunch, and we're looking forward to sharing them.
This is a great one to kick off this fresh run of conversations. Back in the summer – when the UK was baking in a summer heatwave and Harry Maguire became a national heartthrob – I met up with Interpol's Daniel Kessler. The New York band were in London supporting The Cure at Hyde Park. He talked about his memories of visiting the UK for the first time with the group and recording a Maida Vale session for John Peel, recently marking the anniversary of their acclaimed debut 'Turn on the Bright Lights' and getting busted by the cops at Yeah Yeah Yeahs' Manhattan rehearsal space during the making of their latest album 'Marauder'. It's good to be back.
New monthly memberships available
Here's a new thing: our membership scheme now has a pay-monthly option, plus a load of exciting new digital stuff for people who support what we do. It's actually excellent value, honest, and will help us continue to promote new independent artists and labels.
Sign up and you'll receive our physical magazines delivered to your door, our digital editions, exclusive podcasts and playlists and access to our EXTREMELY glamorous Members Lounge. You'll be the envy of all your friends.