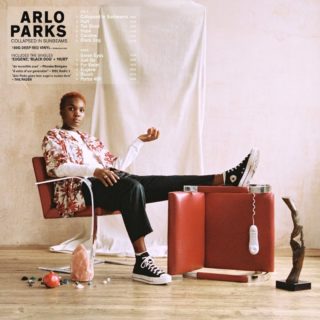 Arlo Parks
Collapsed In Sunbeams
7/10
Arlo Parks was being touted as the spokesperson for Generation Z even before she announced the release of her debut album. If she felt any pressure to live up to that label, or the praise being heaped on her by everyone from Billie Eilish to Florence Welch, then it doesn't show on Collapsed In Sunbeams. It's a confident, if perhaps musically safe, release that will help to cement her reputation for relatability. 
As much of a hip-hop influenced performance poet as she is a singer-songwriter, these twelve tracks are littered with pop culture references. Twin Peaks, Robert Smith's makeup and Sylvia Plath all make appearances in vivid lyrical descriptions of everyday life and emotions. 
In a London accent that shares the unstrained lightness of Lily Allen, she reassures listeners that things will get better. "We all have scars / I know it's hard," she acknowledges on 'Hope', while on 'Black Dog' she tells a friend suffering from depression, "I would do anything to get you out your room."
The music is as laidback as her delivery, blending R&B with jazz-inflected pop and funk. At its sweetest, as on the Clairo-backed 'Green Eyes', she could almost be Corinne Bailey Rae with teenage hickeys. The only track to really challenge this smooth mid-paced confessional is 'For Violet', which recalls Portishead in its low trip-hop bass. 
It would have benefitted the album's low-key mood if a few more tracks had been willing to experiment but it still has a consistency that's impressive in a debut.
Free Protomartyr flexi disc with this month's magazine
Subscribers to Loud And Quiet now receive a limited edition flexi disc of a rare track with their copy of the magazine
This month's disc is from Detroit punk band Protomartyr