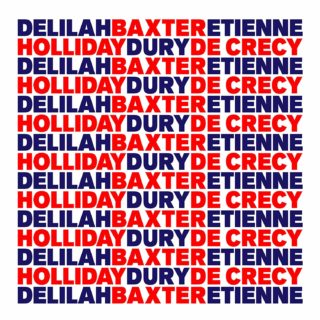 Return to 2017 and Baxter Dury was sniffly-nosed on the heart-broken 'Prince of Tears'. In a bid to rebound he's been catching the Friday morning Eurostar for a series of "cheeky weekends" away in Gay Paree. And he wants you to know he's been up to no good. This new project with French producer Etienne De Crécy and Skinny Girl Diet vocalist Delilah Holliday isn't described as a band, it's a "tryst". They weren't recorded in sessions, they were "liaisons". Nudge, nudge. "It ended up being about an experience I had in Paris that I can't talk about in detail because there are various parties involved," says Baxter with a long, slow, guilty wink. The album is called 'B.E.D.' (also their initials). You're still not getting it? Sex, guys. It's about sex (I think).
Basically, when Dury and De Crécy weren't lunching on beef bourguignon they were getting up to "antics" and sometimes making this music. But the music isn't all that lusty. De Crécy's electronic arrangements are crisp and unfussy – like early Metronomy. If anything, it's all a touch forlorn. Like the mists of a hangover dissipating to reveal inescapable reality. 'Fly Away' sees Holliday recalling tenderly "there's nothing like us", while Dury sounds fed up on 'Only Me Honesty Matters': "We're just obvious / Listening to Florence + the Machine an having a roll up."
A body of work that's a distractory bit-on-the-side for all involved, yes, but it sounds like no-one's truly out running their troubles by escaping to the City of Love.