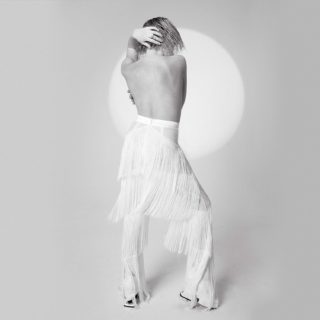 Carly Rae Jepsen
Dedicated
6/10
For the faithful, Carly Rae Jepsen's career has always seemed shrouded in injustice. There was her third place finish in Canadian Idol and 2008's largely-ignored debut, followed by the viral success of 2012's addictively-bubblegum 'Call Me Maybe' – a single so ubiquitous that the accompanying album, Kiss, could never compete.
Then, just when "one-hit wonder" was all but nailed-on as her epitaph, the British Columbia-born singer conjured one of the most lauded pop albums of the decade in 2015's excellent E•MO•TION, featuring contributions from Dev Hynes, Sia and Rostam Batmanglij. And yet, as critical adoration ultimately failed to equate to actual record sales, Jepsen's status as the perennial underdog was underscored once more.
So, at this juncture, Jeppo finds herself in a pretty unusual position for a pop star, facing unenviably high levels of artistic pressure, yet comparatively low commercial expectations. The perfect opportunity to trade that relatable charm for a slightly edgier reinvention, a la her excellent post-E•MO•TION collaborations with Charli XCX and PC Music's Danny Harle? Well, no.
Dedicated largely offers a slicker take on E•MO•TION's intimate, 80s-influenced pop, shorn of those left-field collaborators and wonky production touches, be it hypnagogic synths or distorted sax. The perfectly serviceable singles are the least interesting things here, overshadowed by the gorgeous, glittering synth groove of Noonie Bao co-write 'Too Much' and 'Feel Right''s buoyant combo of cowbell, piano and brass. Better still is 'The Sound', its delicate piano arpeggios semi-submerged beneath strutting bass and dreamy vocal harmonies.
As solid a collection as Dedicated undoubtedly is, it's missing the magic that made Emotion such a cultural phenomenon. Without it, Jepsen seems destined to remain a cult curiosity for the foreseeable future. But then perhaps that's how she likes it.
New monthly memberships available
Here's a new thing: our membership scheme now has a pay-monthly option, plus a load of exciting new digital stuff for people who support what we do. It's actually excellent value, honest, and will help us continue to promote new independent artists and labels.
Sign up and you'll receive our physical magazines delivered to your door, our digital editions, exclusive podcasts and playlists and access to our EXTREMELY glamorous Members Lounge. You'll be the envy of all your friends.