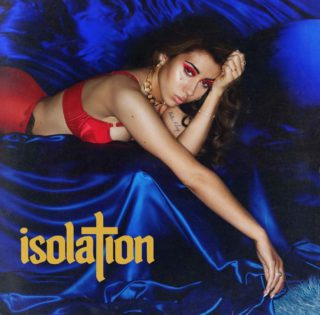 When she appeared on the cover of Loud And Quiet back in July 2017, Kali Uchis described herself as a music "dork". As a teenager, Uchis told us, she would spend her time scouring stores and downloading tracks searching for new and exciting sounds. This hungry, eclectic musical taste has seen her work with artists from across the musical spectrum – from Damon Albarn to Snoop Dogg. And it has resulted in a debut album, 'Isolation', that is a true mash up of styles. It's as if Uchis has taken every record she ever loved and distilled its essence, mixing the results into a delicious aural perfume, fused with the warm sunshine base-notes of her native Colombia.
This is a real summer record, erupting with tunes that are almost guaranteed to lay the soundtrack for whatever holiday you take this year. There's the hip-hop inflected 'Just a Stranger', with a memorable cameo from The Internet's Steve Lacy. Then the sultry, steaming cabaret sounds of 'Flight 22' (the opening cabin skit on this track adds to the vacation vibe of the album). On 'Your Teeth in My Neck', 'Dead to Me' and 'Feel Like a Fool' Uchis sounds like vintage Mary J. Blige, with a smooth R&B twist and that deep syrupy voice that cracks in all the right places. 'Nuestri Planeta' (Our Planet), is Spanish language song with a calypso flavour, while 'After the Storm' channels '60s funk. Play it driving over the mountains with the top down and an ice-cold Coke on the dashboard, or poolside with a fruity cocktail for maximum effect.
Subscribe now. Cancel anytime
Go on, give us a go
We love making Loud And Quiet – our magazines, this website, our podcasts and more – but it's become increasingly difficult for us to balance the books.
If you're a reader who'd like to help us keep the show on the road, please consider becoming a Loud And Quiet subscriber. There are options to receive our physical magazines and lots of other extras that are exclusive to our supporters.