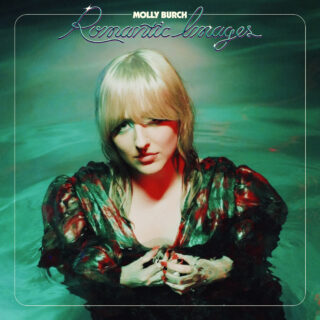 Molly Burch
Romantic Images
6/10
On Molly Burch's fourth record, the Texan singer-songwriter makes the jump, broadly, from the '60s to the '80s. That means the twangy Roy Orbison guitars of 2018's First Flower have been replaced by pulsing synths, slapback drums make way for something drier and sleeker, and Burch's torch-singer croon adds a breathy, hiccuping and girlish dimension somewhere between Janet Jackson, Cyndi Lauper and Mariah Carey. What has endured, though, is Burch's knack for a melody: the topline of 'Heart of Gold' skips around its arrangement with a filigree playfulness, and the second-half run of 'Took a Minute', 'Emotion', and 'Honeymoon Phase', a trio of propulsive, breezily Daft Punkian pop songs that are as effortless as they are addictive, house more hooks than most top-40 albums do in their entirety. 
Having proved her chops, then, it's a shame Burch doesn't carry them across the rest of Romantic Images. Instead, low-stakes rhythmic experiments fall somewhat flat, and the occasional recourse to '60s jangle breaks the nostalgic spell cast by the album's highlights. It's easy to imagine the best of Romantic Images soundtracking John Hughes high-school movies perfectly, not least the 'Lucky Star'-era Madonna bubblegum of 'Games'; that the rest is harder to love makes it an album apt for Spotify pruning.
New monthly memberships available
Here's a new thing: our membership scheme now has a pay-monthly option, plus a load of exciting new digital stuff for people who support what we do. It's actually excellent value, honest, and will help us continue to promote new independent artists and labels.
Sign up and you'll receive our physical magazines delivered to your door, our digital editions, exclusive podcasts and playlists and access to our EXTREMELY glamorous Members Lounge. You'll be the envy of all your friends.