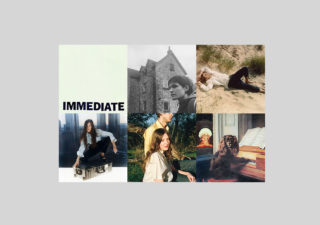 Happy Halloween suckers, from the best 7 albums of the month
Trick or treating really is harassment
You don't have to look far to find reasons why this point in the year is a bit depressing. Maybe it's the fact it gets dark earlier, or that Bake Off has finished, or that Brexit is only five months away. Anyhow, we're trying to keep our chins up. October saw the release of new music from some big names, but we assume you've checked out Robyn's new LP, and Cat Power's, so we've kept them out of this month's round-up. Instead, these were the newer sounds we were bumping.
Artist: Marie Davidson
Title: Working Class Woman
Label: Ninja Tune
What is it? Dark humour, thunderous techno and the spirit of good ol' fashioned hard graft permeates the fourth album from the Québécois producer.
L&Q says: "Bleakly funny while also being introspective, 'Working Class Woman' is supreme motivational company both in the club or on the clock."
Artist: Pill
Title: Soft Hell
Label: Mexican Summer
What is it? Not just on this list because of its cover artwork (just look at it). Musically it's full fury from the New York outfit on their second album.
L&Q says: "This band took a breath after the 2016 election, looked inward and outward and found inspiration in the carnage."
Artist: Adrianne Lenker
Title: Abysskiss
Label: Saddle Creek
What is it? In-between releases from Big Thief the songwriter addresses the human intricacies of isolation on her second solo outing.
L&Q says: "This undoubtedly affirms Lenker's status as one of today's most vital songwriters."
Artist: D.U.D.S.
Title: Immediate
Label: Opal Tapes
What is it? Manchester's D.U.D.S. (they've got punctuation now) were the first British band signed to John Dwyer's Castleface label, and subsequently leave for album number 2 – there's huge reward in unpicking its complexities.
L&Q says: "There aren't any single standout tracks and there doesn't have to be."
Read Ollie Rankine's full review
Artist: Molly Burch
Title: First Flower
Label: Captured Tracks
What is it? A short 18 months on from her debut album, the Austin songwriter returns sounding like a singer reborn.
L&Q says: "Trained in Jazz Vocal Performance, Burch is able to conjure strange and powerful pronunciations and inflections like few of her peers."
Artist: Jaakko Eino Kalevi
Title: Out of Touch
Label: Weird World
What is it? The Finnish songwriter dumps the anxiety that comes with our constantly-connected culture on his fifth album. 
L&Q says: "A tale of regular folks lost in the hyper-speed maelstrom of life."
Artist: Daniel Brandt
Title: Channels
Label: Erased Tapes
What is it? The second solo album from the founding member of the German collective Brandt Brauer Frick is an instrumental avant-garde delight.
L&Q says: "By categorisation this might be a minimalist record – think Steve Reich, or in parts Jon Hopkins – but there's a mighty stature to the songs here."
New monthly memberships available
Here's a new thing: our membership scheme now has a pay-monthly option, plus a load of exciting new digital stuff for people who support what we do. It's actually excellent value, honest, and will help us continue to promote new independent artists and labels.
Sign up and you'll receive our physical magazines delivered to your door, our digital editions, exclusive podcasts and playlists and access to our EXTREMELY glamorous Members Lounge. You'll be the envy of all your friends.