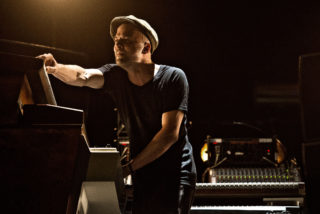 Nils Frahm played Primavera Sound and we all laid on the floor and shut the hell up
We really needed that, Nils
What business does Nils Frahm have at Primavera Sound? Or at any festival? Nils Frahm brings his neo classical ambience to the Barbican and it makes total sense – with a glass of overpriced wine, sat on a velvet seat, in bed by 10. Concert halls and theatres are places of control, though – festivals are silly, loud places. And Frahm is playing at 1:45am on the opening night, straight after the distinctly non-ambient Vince Staples on a neighbouring stage.
I presumed it wouldn't it work at all because I'd overlooked 2 key factors. 1.) Primavera isn't any festival – people are extremely polite here and have a habit of placating any performer (when Staples says jump, you jump to please him; when Nick Cave reaches out at the crowd you obligingly grapple forward, reach up, brush his fingers and shit your pants, and so on…), and 2.) As the Primavera site balloons, it's more of a work out than ever. We've all been stomping about on concrete for hours, we just jumped to Vince Staples and embarrassed ourselves at Nick Cave. It's 1:45am. We'd all quite like to sit down for a bit now please. We need someone who's not even going to test us with words. Nils Frahm is the perfect booking.
Everyone near me is lying on a grassy hill facing the stage. One guys lies all the way down, making a bed with his jacket and a pillow with his bag. Frahm isn't even on yet but others will follow suit as soon as he starts. For those who can't even be bothered to prop themselves up with their elbows they're not missing much, visually, although there is something to seeing Frahm at work in his prison of keyboards. The camera for the big screens if fixed on an aerial shot of the pianos and synthesisers that surround him on three sides. He begins to loop them. And loop them and loop them.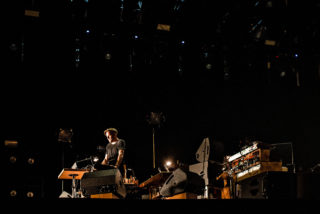 It really is all about the sound and the respite that these warm arpeggios soundtrack. The slow builds do suffer from bass bleeding from other stages, but it turns out that Frahm isn't as minimal as you might think, and it's not long before tracks thrum loud enough for you to feel connected to them but not so loud that they wake up the guy in bed next to me.
Accordingly, people talk to each other in hushed tones, perhaps out of politeness, but probably because we're all sick of each other right now.
A lot of Frahm's tracks sound like space-crafts of different sizes landing at different speeds. It gets kinda boring but I like it. I'm in! From the cult of the Bad Seeds to the cult of this.
Eventually people do wake from their recharge prematurely and head on their way. It's as if some of them have suddenly thought, 'hang on, I am at a festival here – why am I consciously lying on the floor and not talking to my friends?' They go off into the night to explore Four Tet and Floating Points, but if it hadn't been for Frahm they would never have made it.
Photos: Primavera Sound / Eric Pamies
We're not being funny...
… but can you become a member please?
It's actually excellent value, and will help us continue to promote new independent artists and labels.
Sign up and you'll receive our physical magazines delivered to your door, our digital editions, exclusive podcasts and playlists and an actual bookmark, as if printing a magazine in 2021 wasn't old fashioned enough.
6-month and full year memberships are available now. Fancy it?