Test Pressing festival is back – they've got a new home, and a great line-up for 2019
See you in Hackney Wick in April 2019
The first ever Test Pressing festival took place this year, bringing the likes of Metz, Jacuzzi Boys and Moaning to north east London for the night.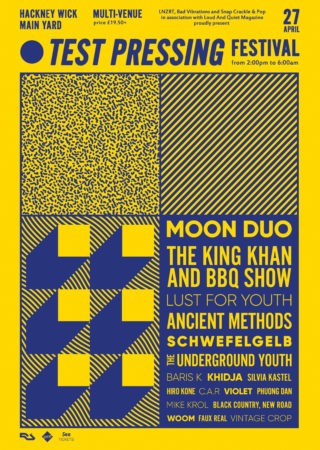 It's happening again in 2019, on Saturday 27 April. This time though, the multi-venue festival will be taking place in a number of new riverside spaces at the main yard Hackney Wick.
The line-up is already looking sick. Ripley Johnson and Sanae Yamada's Moon Duo will top the bill. They'll be joined by The King Khan & BBQ Show, Lust For Youth and Michael Wollenhaupt's techno project Ancient Methods.
Add to that, there's Berlin duo Schwefelgelb, The Underground Youth, Turkish disco bastion Baris K and World Music crate diggers Khidja. Also on the bill: Silvia Kastel, Hiro Kone, C.A.R, Violet, Phuong Dan and Mike Krol. Last but not least, Black Country, New Road, Woom, Faux Real and Vintage Crop will all be there, too.
Early bird tickets for 2019's festival go on sale this Friday (7 December). See you there.
Support Loud And Quiet from £4 per month and we'll post you our next 9 magazines
As all of us are constantly reminded, it's getting harder for independent publishers to stay in business, which applies to Loud And Quiet more now than ever, 14 years after we first started printing a magazine that we've always given away for free.
Having thought about the best way to support the costs of what we do (the printing and server fees, the podcast and video production costs etc.) we'd like to ask our readers who really enjoy what we do to subscribe to our next 9 issues over the next 12 months. The cheapest we can afford to do this for is a recurring payment of £4 per month for UK subscribers. If you really start to hate it you can cancel at any time. The same goes for European subscriptions (£7 per month) and the rest of the world (£9 per month).
It's not just a donation – you'll receive a physical copy of our magazine through your door, and some extra perks detailed on our subscribe page. Digital subscriptions are available worldwide for £15 per year. We hope you consider this a good deal and the best way to keep Loud And Quiet in your life without its content, independence or existence suffering.