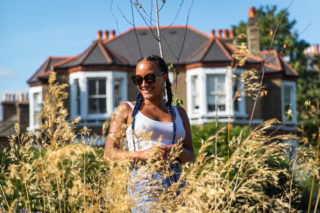 The Rates: Nubya Garcia's underrated artists are all about deep jazz chops, '70s boogie and a guy called "Ian"
We ask an artist to share the 3 musicians they think have gone underappreciated, and 3 new names who they hope will avoid a similar fate
Ask any of the new school of UK jazz musicians whether they play jazz music, and they will blench. In these very pages, protestations are repeatedly made by the movement's leading lights that genre labels are passé, and that there's so much more to their music than "jazz" (the word itself often presented in scare quotes). On the one hand that's fair enough: after all, listen to We Out Here, the early-2018 compilation that's fast assuming era-defining status in the story of British jazz music, and you'll hear pieces as much in thrall to grime and G-funk as they are to Coltrane and Mingus. On the other, perhaps it all comes down to definitions. If the popular conception of "jazz" is noodly show-off back-slapping music, or the sound of an overly tasteful suburban dinner party, then steer clear; but if it's less about a codified sound and more about its practitioners' approach, about interacting with surrounding music and using nuanced training to re-carve it into something progressive – well, maybe the term isn't so terrible after all.
Saxophonist Nubya Garcia is another such jazz-sceptic luminary. Despite graduating with honours from a degree in jazz performance and appearing on five of We Out Here's nine tracks, she's far happier discussing the soul, boogie, and hip-hop that permeates her choices for The Rates than she is her accomplished and admirable jazzer background. That's understandable, too: her new record Source is full of dub reggae and cumbia duelling with her tenor sax, and the RnB of her picks below is clearly audible too. "It's my culture," she explains from atop Telegraph Hill Park in New Cross, overlooking a gradually unlocking London. "Yes, I'm a Londoner born and bred, but I also went to the Caribbean loads when I was a kid, we always had a lot of reggae at home, a lot of dub. There was calypso, soca, all that stuff, so it's all in my brain.
"This generation of musicians just has so many sides to it, especially when their parents aren't from here – you've got family parties with music from their culture, then every decade there's something new, and we've got all that in us. Whether you're hearing it off someone's phone on the bus, or you're at the rave, it's just around you."
Listening to Garcia talk through her choices, with infectious excitement, you sense that whatever jazz means these days, it's in safe hands with guardians like her.
Akenya
Akenya is a deep cut. Deep-deep-deep. There's that one track on Spotify – I've listened to it so many times now, I'm like, "please, give us more" – but she's also been on bare things: she's in Resavoir, that band from Chicago, she's on my new record, and she's on Noname's earlier stuff too. She keeps it all super low-key, but often does IG Live, which is great.
I met her a couple of years ago, and I've seen her live a lot. Her writing, her piano, she's just phenomenal. Her tone, her voice, her lyrics, her improvisation – it's all really unique. There's a bit of early Erykah Badu in there, for sure, but she's got amazing jazz chops as well. Her vocal runs are mad: in Resavoir the band's quite horn-heavy, so she often emerges from underneath the horns, improvising with them, like an instrument would. Usually the singer is super up front and all like, "here are the lyrics to the song", but she's part of the band, less lyric-based and more sound-based, and I really like that.
How did she end up on your LP?
We crossed paths a few times. I first met her when Ezra Collective were the house band for the Worldwide awards, and I was on a few tracks with them, and Noname was around that year so she had come to perform with her. She came into the rehearsal and we just had a really nice time, then I heard her voice and was like, "woah, you're amazing". I bumped into her again when I was in Chicago playing with Makaya [McCraven, drummer and bandleader], and then she came through London for a few days with Resavoir. When I was making my record, I just wrote to her asking her to sing on a track, she recorded it in Chicago and sent it over.
Tawiah
Tawiah's been around for time – she's from Battersea and I came up listening to her. I found her through Eric Lau's stuff – she's on his record One Of Many and another EP called Love Call. I was a big Eric Lao fan and thought the singer was amazing, and so, as you do, I wanted to hear more, and from there I became a real fan. Madly, I managed to see her live in her early days, where she did a solo acoustic version of 'I Wanna Dance With Somebody' which was just… ah, one day she has to record it just so I can listen to it over and over. The whole room went silent, there were goosebumps, and then I was just so gassed I was like, "oh god Tawiah's here", just really excited that I got to see her in that setting.
That's a cool song choice – it's nice to see jazzers engage with pure pop music…
Well, she doesn't really come from a jazz background – she went to the Brit School and grew up in gospel choirs. She's also an amazing songwriter, and her solo shows are really special – just her and her hardware – and it's really hard to do that! I managed to see a couple of those shows and it's such a pure sound. Her new stuff, Starts Again, is cool too.
Lynda Dawn
Lynda Dawn is so sick, oh my gosh. I adore it. People might be surprised, but I think '70s and '80s stuff is dope. Her EP just appeared to me through the Spotify algorithm, and it's been on repeat since then, because it's perfect for so many situations. Like, sun's out? Lynda Dawn. Driving? Lynda Dawn. Wanna dance? Lynda Dawn. But that first track ['Move'] is everything. I do believe that you can hear the sun in some music, and that's in Lynda Dawn. Plus, boogie and disco, it's just great to dance to. You know that if you have 100 disco records in your bag, no one's leaving the dancefloor.
Nice to hear that Spotify recommendations work for some people – I find them really hit and miss
The trick is to skip every track you don't like until the algorithm is on point. But I also need multiple places to find music: like, everyone has their recommendation bubble on Spotify, sure, but then lots of people have been doing playlists recently too, which is a good way to get into stuff. For example, Touching Bass have a new curator every month. Digging on Bandcamp has been cool for me as well, especially on their Bandcamp Fridays, so I've only been buying my music from there on those days. I really like just typing in a genre or something random into Bandcamp and then just digging, because I don't think there's an algorithm. It's a totally different experience there, so big up Bandcamp – they seem like the good guys in the streaming thing, or at least the better ones. They're fully immersed in the music: when I put my record up there, they were really helpful. I had no idea what I was doing, and they were really useful and present.
Emmavie
Emmavie is such an incredible producer. She did a record with Alfa [Mist, pianist and rapper] that was amazing if you haven't heard it. And she sings, too. She's had an amazing trajectory so far. She's going to get busier and busier, and I can't wait for more. I came across her because she's a friend of a friend – we sort of move in the same circles, dipping in and out of other people's tours, and we were playing at a bunch of the same places.
She's not really a jazzer, but you can tell she probably likes it. It's a lot more of an R&B thing, although those labels matter less and less these days. Everything's a lot more nuanced now because we all grew up with so many different things. Like, I see some people call Moses Boyd jazz, but I can hear so many different things in his music, and it's the same with all of us – people assume that you're jazz because you've been put in that box and because I play the saxophone I couldn't be doing anything else.
That's definitely true, although, alongside that, you've had a kind of training and play with a technical sophistication that, say, a DIY punk band hasn't necessarily had or needs.
Yeah I forget that I went to college, and I forget that people assume I do jazz, because I see my life in 360 rather than just a small part of it. Sure, I guess I am an accomplished and highly trained musician, but it really isn't that big a deal to me because I know a lot of musicians who didn't go to uni to do music. There's a breadth of musicians around us – some are classically trained, some trained within the jazz idiom, trained composers, trained artists. So I did that and that's the root, but the genres are more diffuse now.
Demae
At the moment there's only one song on Bandcamp, but she did a collaboration record with Eun, she was in [British jazz-leaning rap group] Hawk House four or five years ago, and now she's got a new record coming out. I've only heard the new one because I'm friends with her label bosses (Touching Bass are putting it out and I went round for dinner!) but it's an amazing record, and I like that she's taken her time, which is why I picked her. It's really beautiful music. I haven't heard anything like it musically or sonically for ages. The harmonies are amazing. I'm not just doing this feature to plug my mates though, I actually rate them!
Is the new one like the demo that's on Bandcamp? That reminded me of J Dilla…
No it's nothing like that, but we do all need more Donuts in our lives, don't we! She's calling it an EP but it's a bit longer than that – 6 or 7 tracks. It's just a really beautiful story of her journey over the last few years musically, about self-discovery and life. It's really honest and truthful, and that's what music's meant to be.
Eun
It's pronounced like "Ian". Straight-up Ian. I appeared on a project of his a couple of years ago just when he was starting out, and he was quiet and humble and really talented. He's got a really sick track with Georgia Anne Muldrow on the same project. He's wicked. He thinks about things differently as a producer, really pushes it, doesn't mind going grunge even, gnarly in a good way. Similar to what I do, he's not boxed in by people thinking of him in a certain way, and I'm always excited to hear what's next. He's produced some of the tracks for Ego [Ella May, songwriter and vocalist]'s record. He's got such a breadth of work already.
Loud And Quiet needs your help
The COVID-19 crisis has cut off our advertising revenue stream, which is how we've always funded how we promoted new independent artists.
Now we must ask for your help.
If you enjoy our articles, photography and podcasts, please consider becoming a subscribing member. It works out to just £1 per week, to receive our next 6 issues, our 15-year anniversary zine, access to our digital editions, the L&Q brass pin, exclusive playlists, the L&Q bookmark and loads of other extras.