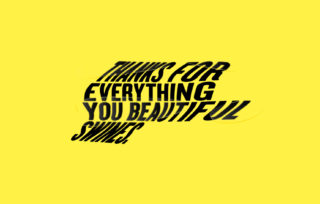 10 years, 120 releases and countless DIY bands – the story of Too Pure Singles Club
Calling time on the cult imprint - their final release will come out next month
Brace yourself, because this is sad news. After 10 years spent uncovering and documenting underground talent, Too Pure Singles Club has announced that it's closing. That means after 120 releases, an untold number of stamps and buckets of elbow grease, the days when you could expect a monthly jiffy bag of weird, noisy goodness are sadly passing into history.
"It really does feel is the end of an era," says the label's boss, Paul Riddlesworth sipping a pint in a London pub. For what is effectively a post mortem, our meeting is a remarkably upbeat affair. "I think it's probably come to its natural conclusion as it was getting more difficult to get subscribers", he says. The last 7" ['20 Golden Greats' by Dream Themes] is going to fucking awesome though – we're going out as a bang."
From the get-go, Too Pure has always been a launchpad for new sounds, so seeing it consigned to the history books will be a real blow to fans of DIY music. Founded by Richard Roberts and Paul Cox as a more traditional label in 1990, the label had a knack for spotting future movers and shakers, famously teaming up with 4AD to release PJ Harvey's debut album 'Dry' in 1992. In the late '90s and early 2000s Too Pure built on this success, releasing albums from cult indie artists such as Mclusky and Electrelane. However, this run of success came to an end in 2008 when Beggars decided to merge the label with their sister imprint 4AD, but luckily it was decided that the popular singles club would continue as a feeder for the group's bigger labels.
Since then, the label's modus operandi has been to champion new, cutting-edge music – and they've been pretty good at it over the years. Specialising in limited run vinyl singles, they've kicked off some of the best-known bands in indie, punk and experimental music. They were the first label to release music from the likes of Bear Hands, The Crookes, Jeff The Brotherhood, Esben & The Witch and Pulled Apart by Horses, who have all gone on to great things after Too Pure introduced them to the world.
"I used to work in the warehouse at Beggars, which was awesome," says Riddlesworth explaining his part in the story. "You had every release down there. It was like a cross between Willy Wonka and Fraggle Rock. Anyway, I started helping Jason White (Beggars' resident press manager) who ran Too Pure at the time with the mail-outs, just because, I really liked helping out. He was like – 'I'm too busy, so if you want to do this and look after this label, then just run with it?' I was more than happy to do that."
Being a singles club rather than a traditional record label allowed Too Pure to do things that other labels couldn't. Rather than having to trek down to your local store, the idea was to send the music directly to people's homes so for just fifty quid a year (sixty-five, if you were outside the UK). Subscribers received a monthly, limited, hand-numbered 7" single on coloured heavy weight vinyl. Whatever didn't make its way out via the mailing list was then sent to the shops.
That meant quality was always at the top of the list of priorities for Too Pure. As well as releasing good music, the whole idea was to put out collector's items. "We were always a 7" label – that was the deal. All the singles were mastered at Abbey Road as well, which was great for all the new bands, as it was pretty much the first single for most of these artists." It was a bold (and pricey) commitment. "The cost of 7″s is one of the reasons we've had to stop. It's become way too expensive now. This is so boring, but if you think a £4.50 dealer for two tracks would cost you like £7 in the shops now. So, that's £7 for two songs when you can get an album in the shops for like £15."
To be a Too Pure subscriber was an unpredictable journey – each month the label's releases could be wildly different from one another. One month you might get a gentle freak folk track and the next month you could be listening to some caustic hardcore. "I just got to do what I wanted. The whole attitude was 'keep your head down and put out what you like'," says Riddlesworth. "I've been dead lucky there. No one ever said, 'you need to put this out, or feature this'. I mean if they had told me that kind of stuff it would have been brilliant. I'd just been like 'fuck it – I'll put that out.'"
This led to an interesting relationship between Too Pure and its followers. Talking to Paul, you can feel the genuine affection for the people who rode the ride with them. "It was an eclectic mix, so you had to be fucking nuts to like everything," he laughs. "We had like stuff by Grimm Brides, who are great, but admittedly they are like noise, which isn't really to everyone's taste. But, you know what, every year I'd do a little survey to find out what people liked best, and you know what, on the whole people liked a little bit of everything. It's been really cool."
In recent years, Too Pure has tapped into the rich vein of music coming out of South Yorkshire and the Peak District. The reason for this has been an incredibly fruitful relationship between Riddlesworth and MJ, the Leeds-based record producer, founder of Hookworms, and all-around impresario.
"I'm such a lazy bastard," admits Paul as he recalls how the pair met. "The way I'd find bands was mostly by going out, chatting with people and seeing who was supporting who. It was while doing this that I went into Norman Records and bumped into John Nash from Cowtown was working there. I was telling him about Too Pure and he said, 'oh yeah, well there's this band, they probably won't have anything to do with you, but Hookworms are pretty good. I ended up getting in touch with MJ and it kind of spiralled from there really."
"Paul really likes drinking in the North Bar," chuckles MJ when I ask him about his work with Too Pure. "I think we ended up working together around the same time as I was doing Pearl Mystic and we mastered 'Radio Tokyo' on the road for that album. I also sent him the first Menace Beach recordings and they ended up releasing something before is. I got to go to Abbey Road twice in a couple of months – that was great."
2017 turned into a formative year for both Too Pure and a new generation of fresh-faced, and mostly Northern DIY acts. From the moody post-punk of Drahla to the brash, almost nonsensical noisecore of Blacklisters; all have found a home on the label. "Working with MJ has been so good," beams Riddlesworth. "He'd tip me off about all sorts of bands like Menace Beach and Black Moth. It's been really cool to work with all of them."
"I pass things on because I like the music, nothing more than that," adds MJ. "I've turned stuff down I know would be good for my career in the past because I wasn't into it. It's not fair for anyone to take the money then phone it in."
Now, with the end so near (the final release comes out in December) and facing the final curtain, Paul and MJ are bittersweet. On one hand, both are plainly sad about Too Pure coming to end, but both are rightly proud of what they've achieved. However, before Too Pure finally says goodbye, there's the small business of getting the last few records out of the way. "The final, pièce de résistance is by Rhodri (Marsden) and Dicky (Moore) from Scritti Politti and Paul who used to run the Buffalo Bar who are in a band called Dream Themes who do covers of TV themes. It's A double 7″, so it'll be 20 tracks of fucking gold."
And what they'll miss most from working on Too Pure?
"I'll probably never be able to afford Abbey Road again," deadpans MJ.
"I'm genuinely thinking of setting up another label," wonders Riddlesworth. "We'll see. I don't know yet. It won't be a singles club though – it'll be a proper one. I'm like Danny Glover in Lethal Weapon's 1 to 4; I keep saying that I'm getting too old for this shit, but keep showing up anyway."
Some key releases:
Pulled Apart By Horses – I Punched A Lion in the Throat (Jan 2009)
Paul: "The first release I did from start to finish was Pulled Apart by Horses. It all started from here, basically. I think they'd done a single before on Big Scary Monsters called 'Meat Balloon' and I just fucking loved it. I'd seen them live and they were one of the best bands I'd ever seen. So, when I got in touch with them I was really surprised when they were like, 'yeah – no problem'. It's insane to think how they've gone from that to opening the main stage at Reading. Out of all the band's they've deserved it – they put the graft in."
James Brown (PABH): "Back in 2009 we met Paul over some (many) beers in London, he was one of the nicest and most enthusiastic people we'd met back in the early days. When he offered to do a single with us and explained how the singles club worked, we jumped on it in an instant. I genuinely believe that we wouldn't be where we are now if it wasn't for him. That single lead us onto do so many things and really was a tipping point for us. We owe him one and so does the music industry. He has championed so many great artists that have gone on to do amazing things. We're very sad Too Pure has come to and end, but we're 100% positive Paul will go on to do more amazing, passionate and inspiring stuff, as that's pretty much who Paul is in a nutshell."
Seize the Chair – You Who (Sept 2012)
Paul: "Seize the Chair are basically my favourite children. I love them. They're the only band I've done three singles with and someone really needs to sign them! If I could put their album out tomorrow, I would. How do I describe them? They're loveable idiots, like Devo but from Yorkshire. Unfortunately, we had a bit of bad luck with this single, as we lost a lot of them when the Sony warehouse was burned down in the London Riots. We didn't have the budget to repress them, so let's just say that whoever got one really lucked out."
Hookworms – Radio Tokyo (April 2013)
Paul: "I met MJ through John Nash at Norman Records. I think Gringo was putting out Hookworms first record at the time, and I've always been incredibly grateful that they let us put this single out. Amazingly, when we put this one out, we had some people email us to say that they'd unsubscribe if they didn't give them one of the low numbered singles. As a joke, we gave them the highest ones and a few people unsubscribed. So, MJ put out a Tweet that said, 'whoever's just unsubscribed from Too Pure, if you let me you know your address, I'll put a number 2 in the post."
MJ: "This was an incredibly formative song for us. Knowing that we had to write a piece of music that would fit on a 7" for the first time was whole new way of working for us. We'd done a split 7" with Kogumaza before this but that song wasn't explicitly written for the format. It played a large part in developing the direction of our second LP. It's one of the few older Hookworms songs I still enjoy playing."
Drahla – Faux Text (April 2017)
MJ: "Drahla basically asked me to record them when I was out one night, I said 'send me a demo?' and what I got in my inbox the next day blew my mind. Best band from around here in years, I love them and more than anything I've made three great friends."
Paul: "Drahla are the nicest bunch of people you'd ever meet. I remember MJ dropping me a line going you're going to fucking love these, and you know what I did. The rest is soon to be history."
Loud And Quiet needs your help
The COVID-19 crisis has cut off our advertising revenue stream, which is how we've always funded how we promoted new independent artists.
Now we must ask for your help.
If you enjoy our articles, photography and podcasts, please consider becoming a subscribing member. It works out to just £1 per week, to receive our next 6 issues, our 15-year anniversary zine, access to our digital editions, the L&Q brass pin, exclusive playlists, the L&Q bookmark and loads of other extras.