Nilüfer Yanya is on the cover of Loud And Quiet 130 – out this weekend
What a way to end this glorious year
Personally, professionally, politically, socially, this year has repeatedly been a shit pie. There's also been a lot of good, though, and for the magazine it feels like we're ending 2018 on an upswing. That is thanks to you, our readers, who responded last month to our inevitable we-need-your-money post. In it we echoed the same boring story of the struggling independent press (although for the first time ourselves) and launched a new subscription model where you can support us from £3 per month and receive our next 9 issues in the post. We've been too embarrassed to outright ask before, truth be told. Into 2019 we're keeping the mag free, but if you really like it your 3 quid(s) will protect our independence get L&Q dropping through your front door on a regular basis.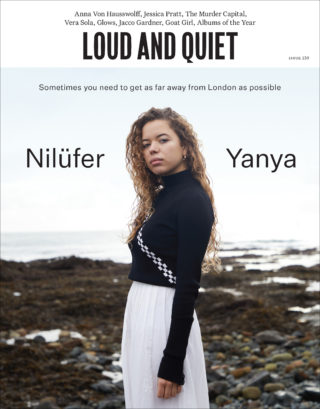 A good place to start is with our final issue of 2018, which goes into stores this coming weekend.
For it, Nilüfer Yanya hosted us in Penzance, a place that's key to her life and the debut album that she'll be putting out in early 2019.
Daniel Dylan Wray went further, to Amsterdam to meet Jacco Gardner in a planetarium, and I went all the way to Lewisham for Goat Girl to show me around their home.
We have some guest columns from Shame's Charlie Steen and Anna Von Hausswolff, and interviews with new artists Glows, Vera Sola and The Murder Capital. Jessica Pratt too.
Gazelle Twin, Geoff Barrow, Richard Dawson, US Girls, Chris Carter, Evangeline Ling and Jason Williamson answered out 2018 survey on how good or bad it's all been.
In stores Saturday. Available for pre-order here.
Or start that subscription and get it for a little as £3 to wherever you call home.
Thanks for reading this year. From all of us here at L&Q.
Subscribe to save Loud And Quiet
The COVID-19 crisis has really hit Loud And Quiet hard, cutting off our advertising revenue stream, which is how we've always funded what we do in order to keep the magazine free for our readers.
Now we must ask for your help to save us.
If you enjoy our articles, photography and podcasts, and if you can afford to, please consider subscribing to Loud And Quiet. With FREE delivery in the UK (international subscriptions also available), it works out to just £1 per week.
If we don't receive enough subscribers, we'll be closing down.
We'll post you our next 6 issues, a handmade lockdown fanzine, access to our digital editions, an L&Q brass pin, playlists, a bookmark and some other extras.