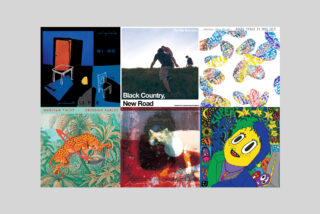 The ten best albums from February 2021
Another weird month, another wealth of amazing sound
Through the dense thicket of whatever recent memory has become, we're seeing out the final days of winter with a glimmer of hope (and a decade's worth of decaying field recordings). Here are our ten favourite albums from the shortest month.
Artist: Blanck Mass
Title: In Ferneaux
Label: Sacred Bones
What is it? Cavernous, festering and thickly disorientating noise pilfered from Benjamin John Power's own field recordings, amassed over the last ten years with Fuck Buttons.
L&Q says: "Fleeting moments of tranquility interspersed with corrosive heft, snatches of genuinely arresting beauty that are swept aside by torrents of something far more ferocious and unyielding."
Read Luke Cartledge's full review here.
Artist: Ghetts
Title: Conflict of Interest
Label: Warners
What is it? Grime forefather Ghetts delivers one of the most consistent and confidently inventive projects of the genre's 'adult' era.
L&Q says: "At its best, the redemptive, reflective outlook of the record and its time-spanning character-play evokes the enthralling pull of Kendrick Lamar's good kid, m.A.A.d city."
Read Oskar Jeff's full review here.
Artist: Nubiyan Twist
Title: Freedom Fables
Label: Strut
What is it? The Leeds / London collective's most cohesive album to date, flowing through UK and Brazilian jazz, R&B, highlife and UK garage with storytelling at its heart.
L&Q says: "The project's third album traverses musical and social histories with lightness and dexterity, weaving nine tales of personal memoir into one long call for unity."
Read Max Pilley's full review here.
Artist: Lael Neale
Title: Acquainted With Night
Label: Sub Pop
What is it? The sophomore studio album from California-based folk/pop songwriter Neale, in ode to minimalism and changed process.
L&Q says: "The best thing about this album is that Lael Neale makes something as routine as grocery shopping or noticing the details in your beloved's face into pure poetry."
Read Isabel Crabtree's full review here.
Artist: Mogwai
Title: As The Love Continues
Label: Rock Action
What is it? A heavy but intricate tenth studio album from Glasgow's post-rock royalty.
L&Q says: "It's Mogwai as you've always heard them, but also as you've never heard them before. Three decades in, and their evolutionary guitarmageddon still continues to surprise."
Read Reef Younis's full review here.
Artist: Pauline Anna Strom
Title: Angel Tears In Sunlight
Label: RVNG Intl
What is it? The first studio album in 30 years – and now a fitting farewell – from the blind-from-birth pioneering synthesist better known as Trans-Millenia Consort.
L&Q says: "Across the album's nine tracks, she blends her fascination with ritualistic organ, German classical, Krautrock and nature to produce an album that feels as cosmic as it does tropical, flowing readily like a leaking ethereal tap."
Read Robert Davidson's full review here.
Artist: Claud
Title: Super Monster
Label: Saddest Factory
What is it? The first release on Phoebe Bridgers' new imprint that mines sad pop gems about gender, identity and (a lot of) relationships.
L&Q says: "At just 21, Claud's ability to distill the emotional tumult of young adulthood into song is reminiscent of Lorde, Frankie Cosmos, or Bridgers herself – albeit in a much more upbeat format. 
Read Jessica Wrigglesworth's full review here.
Artist: Virginia Wing
Title: private LIFE
Label: Fire
What is it? A therapeutic exploration of personal, mental and emotional trauma in the form of another near faultless pop record from Manchester's finest sonic journeyers.
L&Q says: "Aside from its tighter presentation of Virginia Wing's existing sound, private LIFE benefits from a doubled-down dedication to the specific wild abandon only pop can offer."
Read Dafydd Jenkins's full review here.
Artist: Black Country, New Road
Title: For The First Time
Label: Ninja Tune
What is it? The much-anticipated debut album from the Cambridge / London experimental rock seven-piece; expectations were high for this one, and it doesn't disappoint.
L&Q says: "Forget the best band in the world. This feels like everything a rock band can do."
Read Dafydd Jenkins's full review here.
Artist: Django Django
Title: Glowing In The Dark
Label: Because
What is it? The fourth album from dancefloor-focused art rockers Django Django, drawing heavily on their addictive live sets.
L&Q says: "Multifaceted and polyhedral, the sound of the thirteen tracks is cohesive and coherent, blending together some of the most interesting genres of the last six decades."
Read Guia Cortassa's full review here.
Free Protomartyr flexi disc with this month's magazine
Subscribers to Loud And Quiet now receive a limited edition flexi disc of a rare track with their copy of the magazine
This month's disc is from Detroit punk band Protomartyr