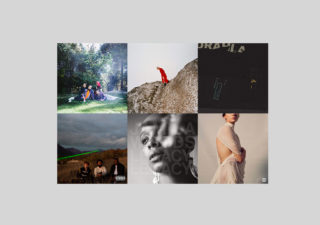 11 albums we're highly recommending from May 2019
Essential listening from the month that brought you Nigel Farage wearing a milkshake
Everything went a bit doolally in May, and we're not just talking about the final episode of Line of Duty. There was Theresa May announcing she's leaving Downing Street, someone chucking a Five Guys milkshake over Nigel Farage in Newcastle city centre in the run-up to the European elections and that Madonna performance at Eurovision. Still, it was rich in bounty when it came to bank holidays and decent new albums. Like this lot that we've had on heavy rotation for the past four weeks.
Artist: Cate Le Bon
Title: Reward
Label: Mexican Summer
What is it? A year's isolation in the Lake District offers a candid portrait of eccentric and patient self-discovery for Cate Le Bon.
L&Q says: "There is a closeness in the songs too, and the sense that they would remain as compelling were it still just Le Bon and her second-hand Meers piano, singing into the silence."
Read Katie Cutforth's full review
Artist: Slowthai
Title: Nothing Great About Britain
Label: Method
What is it? After the storm of a 99p tour around small-town England, Slowthai's debut expertly parodies London-centric culture and class hostility with sardonic dry humour and dexterous basslines in what might be Northampton's best grime release, ever.
L&Q says: "By transcending microscopically scrutinising the perils of a specifically outlined time period, and avoiding dissecting specific political or social blunders and the problematic people involved with them, this project is instilled with a timeless quality."
Read Tom Critten's full review
Artist: Injury Reserve
Title: Injury Reserve
Label: Loma Vista
What is it? Experimental hip-hop here to ridicule – among other things – Instagram influencers, a misogynistic fashion industry and the QWERTY keyboard.
L&Q says: "Riffs on this debut are exciting and varied. The rolling piano that buoys 'Gravy N Biscuits' sounds immediately recognisable, while there is a jittery, paranoid quality to the chimes of 'Wax On' – a standout track that builds pace subtly before it unfurls."
Read Jamie Haworth's full review
Artist: Jamila Woods
Title: LEGACY! LEGACY!
Label: Jagjaguwar
What is it? A series of sleek homages that center around the difficulty of black independent artistic production in a historically racist society.
L&Q says: "The histories left to her weigh heavily, but all she can do is write herself into the narrative, create something new, leave a legacy of her own."
Read Alex Francis's full review
Artist: Drahla
Title: Useless Coordinates
Label: Captured Tracks
What is it? A long-awaited debut from Leeds post-punks Drahla, with a few minutes of serrated saxophone and observational spoken word thrown in for good measure.
L&Q says: "It's experimentation – the kind that feels like it's had time to gestate – that's the driving force behind this first effort."
Read Tom Critten's full review
Artist: The National
Title: I Am Easy To Find
Label: 4AD
What is it? The eighth studio album from The National is paired with a sister film, includes big vocal features from Gail Ann Dorsey (David Bowie), Sharon Van Etten, Lisa Hannigan and This Is the Kit and more. But in essence it's another slow burning collection of slow rock songs about love, death and losing.
L&Q says: "We're all ageing into a world that doesn't make sense anymore, where the political climate and the environment have changed so much that the future no longer matches with the past. It's this lack of consistency that the National mine to such great effect."
Read Alex Francis's full review
Artist: Rosie Lowe
Title: YU
Label: Wolf Tone
What is it? A downbeat R&B, neo-soul sophomore from Exeter-born Rosie Lowe, which is uncharacteristically happy and about love.
L&Q says: "Swooning RnB melodies host everything from philosophical but flirty guest verses from elusive icon Jay Electronica to odes to Cleopatra and divine femininity."
Read Mike Vinti's full review:
Artist: Big Thief
Title: UFOF
Label: 4AD
What is it? A fragile folk rock from a band that has a genuine claim to having written one of the calendar year's finest albums in each of the last three of them.
L&Q says: "Actually, make that four. It's softer than their previous work; the percussion is pillowy, and there's something in the way that the deceptively complex vocal and guitar melodies cross over that lends the whole thing an airy warmth."
Read Joe Goggins's full review.
Artist: Flying Lotus
Title: Flamagra
Label: Warp
What is it? Cartoonish rap in the age of jazz revival takes a new turn with a guest show from Anderson .Paak, George Clinton, Denzel Curry, Little Dragon, David Lynch, Shabazz Palaces, Solange, Thundercat, Tierra Whack, and Toro y Moi.
L&Q says: "A grab bag of hip-hop, funk, soul, free jazz and the LA Beat scene, there's the busy, accelerated BPM of opener 'Heroes', the woozy 'Yellow Belly' and classic boom-bap of 'Black Balloons Reprise'."
Read Reef Younis's full review.
Artist: Siskiyou
Title: Not Somewhere
Label: Constellation
What is it? The former Great Lake Swimmers' drummer goes solo with hushed existential twilight-folk Jeff Mangan would be proud to call his own.
L&Q says: "The downcast lo-fi melodies become painfully nostalgic at times: a family home with a thatched roof stands in front of a sunburnt yellow lawn. Some songs are built-up from the noises of a school playground, others are singed with 1960s sunshine pop."
Read Tristan Gatward's full review.
Artist: Hayden Thorpe
Title: Diviner
Label: Domino
What is it? An uncharacteristically sparse debut from the former Wild Beasts frontman that swaps out the soundscapes for a raw and open wound.
L&Q says: "Without Fleming as a foil, it's as if he's singing to himself for the first time; getting his ideas out of his head in order to better make sense of them."
Read Joe Goggins's full review.
Please support Loud And Quiet if you can
If you're a fan of what we do, please consider subscribing to L&Q to help fund our support of new musicians and independent labels
You can make a big difference for a few pounds per month, and in return we'll send you our magazines, exclusive flexi discs, and other subscriber bonus bits and pieces
Try for a month and cancel anytime