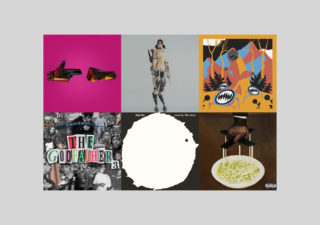 The 12 best albums from June, and the 2 best EPs
The most exciting music we've not been listening to in the office we're not allowed to go to
In an age where content is king, not only are we telling you about our 12 favourite albums this month, but we've thrown in our two favourite EPs, too. The world is edging its way back to social normality now like a benignly self-aware lemming; at least it's given us a glut of brilliant new music. We're grateful to still be able to tell you about it. So, these are our top picks from June 2020, from drowsy beatific psychedelia and escapist adventures with cartoon dogs to visceral hip-hop that needs us to reconsider the context of our own consumption, and needs us to listen harder.
Artist: Bananagun
Title: The True Story of Bananagun
Label: Full Time Hobby
What is it? The debut album from the innocuously named Melbourne five-piece, filled with psychedelic, Fela Kuti-inspired afrobeat and tropicalia, that sounds like one big adventure with a cartoon dog.
L&Q says: "The group's relentless energy oozes out of each and every song. From the '60s psychedelic bop of 'Bang of the Bongs' through to 'Taking the Present for Granted', you're taken away from reality and sent hurdling into the fun zone."
Read Jack Doherty's full review here.
Artist: Arca
Title: KiCk i
Label: XL
What is it? Songs about adventure and self-discovery following Arca's gender transition that break the album format's traditions and the electronic genre's conventions, featuring an all-star cast of pop's avant-gamechangers in Björk, Rosalía, Shygirl and SOPHIE.
L&Q says: "It's not just deconstructed club music; the club has been separated into its sub-atomic particles, and the dark matter in between consumed for fun."
Read Skye Butchard's full review here.
Artist: The Vacant Lots
Title: Interzone
Label: Fuzz Club
What is it? Genre-bending psych rock that exists in the liminal spaces between the very lucid real world and fantasy, named partly in ode to William Burroughs's Naked Lunch.
L&Q says: "The Vacant Lots' music exists somewhere between reality and hallucination. They find space somewhere between the tangible thumping club music and the dreamy netherworld of noodling psych rock."
Read Cal Cashin's full review here.
Artist: Freddie Gibbs & The Alchemist
Title: Alfredo
Label: ESG / NALC/ Empire
What is it? The follow-up to Freddie Gibbs's career-best album with Madlib last year that reignites his 2018 collaboration with in-form Beverly Hills producer The Alchemist.
L&Q says: "This record is entirely about Freddie Gibbs. His technical qualities as a rapper are unbelievable, but above all else his charisma is electric, and his one-liners are fantastic. Alfredo is a record that captures an unparalleled talent thriving in his element."
Read Cal Cashin's full review here.
Artist: Dog Unit
Title: Barking To Gospel EP
Label: Sonic Deterioration
What is it? The debut EP from Hackney-based instrumental-rock quartet, mixed by Four Tet while isolating in upstate New York, pitched as electronic music played by a band, or post-rock music you can dance to.
L&Q says: "a propulsive drive-time Tangerine Dream, where synths and sequencers are traded for the four-four-two of band line-ups (and an omnichord)."
Read Tristan Gatward's full review here.
Artist: Becca Mancari
Title: The Greatest Part
Label: Captured Tracks
What is it? The sophomore album from the New York City-born folk singer-songwriter, that sounds a lot more calming and delicate than its reality.
L&Q says: "This is not a soundtrack to Sunday brunch but a tense and unflinching confrontation with a traumatic childhood growing up gay in a virulently unaccepting Christian Fundamentalist household."
Read Robert Davidson's full review here.
Artist: Run The Jewels
Title: RTJ4
Label: Jewel Runners/ BMG
What is it? The fourth album from El-P and Killer Mike that transcends their usual brand of brash yet heavily politicized rap music and becomes a vital, gut-punching and visceral document of a world in flux.
L&Q says: "RTJ4 is a stark reminder that the consumption of art as either entertainment or cultural document are two inseparable actions […] it's vital to understand who made the art we are consuming, how it relates to the world we live in, and how passivity only helps maintain the perpetual cycle of suffering that informs such work."
Read Oskar Jeff's full review here.
Artist: Jockstrap
Title: Wicked City EP
Label: Warp
What is it? The sophomore EP from melodic-but-abrasive electronic weirdos Jockstrap, and their first released on Warp, that hits with all the bubbling experimental excitement of a debut.
L&Q says: "As opener 'Robert' proclaims, "I am really impressed.""
Read Jemima Skala's full review here.
Artist: Kate NV
Title: Room For The Moon
Label: RVNG Intl
What is it? An album of unlived memories and nostalgic fabrications from Moscow-based artist and electronic producer Kate NV, recorded in the loneliest period of her life.
L&Q says: "Deviating between English, French and Russian, her voice threads the blurry outline of a childhood memory, each track like a scene from a movie where you can't remember the plot but are able retain the general mood and atmosphere."
Read Ollie Rankine's full review here.
Artist: Wiley
Title: The Godfather 3
Label: Self Released
What is it? A refreshingly A&R-free conveyer belt of up-and-comers in UK grime and rap, lovingly and vitally assembled across 22 tracks from the culture's contentious custodian.
L&Q says: "Despite Wiley's generosity, you can't ignore the fact that this album excels when he is front and centre. Over 20 years of Wiley releases still doesn't prepare you for the frightening pace and versatility of his flow."
Read Robert Davidson's full review here.
Artist: Team Picture
Title: The Menace of Mechanical Music
Label: Clue Records
What is it? A bold and swoopingly melodic debut album that deserves to sit alongside the buzziest names in the ever-expanding list of exciting new British rock bands.
L&Q says: "Their sound is somewhat unfashionable in its polish and grandiosity, a little out of step with the gnarly, neurotic likes of Black Midi or Black Country, New Road – yet on The Menace of Mechanical Music, their songs are so intoxicating that such incongruities hardly matter."
Read Luke Cartledge's full review here.
Artist: Drab City
Title: Good Songs For Bad People
Label: Bella Union
What is it? A disorientating soundtrack of dub, hip-hop, dream-pop and jazz with no clear unifier other than a temporary, intoxicating confusion.
L&Q says: "For Drab City, aesthetic is king […] a joyously dark romance, like if Nancy Sinatra and Lee Hazlewood had been bitten by vampires and forced to live in each other's company for the last thousand years."
Read Max Pilley's full review here.
Artist: Hinds
Title: The Prettiest Curse
Label: Mom + Pop
What is it? The third studio album from Madrid's indie pop four piece, that finds their mother tongue alongside some bold sonic clarity.
L&Q says: "Hinds' third album is not only the band's most candid and unapologetic to date, but its revolutionary spirit speaks to their departure from the lo-fi, fluffy indie-pop of their 2016 debut".
Read Rosie Ramsden's full review here.
Artist: Amnesia Scanner
Title: Tearless
Label: Pan
What is it? Strangely dislocated Finnish electronica about experiencing Earth at a time of collapse, fizzing with creative potential and always a second away from implosion.
L&Q says: "Tearless barrels along a tightrope as if it's a landing strip, the pace blistering and the tumult unrelenting, yet it just about manages to retain its balance."
Read Luke Cartledge's full review here.
Loud And Quiet needs your help
The COVID-19 crisis has cut off our advertising revenue stream, which is how we've always funded how we promoted new independent artists.
Now we must ask for your help.
If you enjoy our articles, photography and podcasts, please consider becoming a subscribing member. It works out to just £1 per week, to receive our next 6 issues, our 15-year anniversary zine, access to our digital editions, the L&Q brass pin, exclusive playlists, the L&Q bookmark and loads of other extras.